Juices and or Pulp of most Fruits can be converted into free flowing Powder by spray drying route (just like Milk Powder from Milk) . Filtered Fruit Juice is homogenised before feeding to a Spray dryer. Dehumidified air at Dryer outlet prevents lumping of powder (Fruit powders are Hygroscopic in Nature) and packed immediately (If required with Nitrogen) . Spray dryers have also Nozzle system to feed Pulp like Tomato. The natural flavour, colour and taste are intact.
Various Spray Dried Powders are available from CIFAL HERBAL Private Ltd ( formerly Southern Citrus Private Ltd ).
We are now offering Instant Tea with NATURAL EXTRACTS like , Elachi, Ginger, Lemon,

Mint and GREEN TEA WITH LEMON.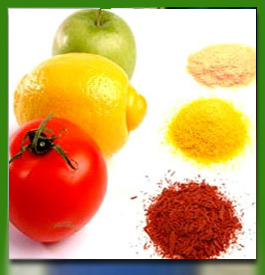 Fruit/ Vegetable Powders
Banana, Guava, Custard Apple, Mango, Orange, Papaya, Pine Apple, Pomegranate, Sugar Cane, Water Melon, Indian Gooseberry (Amla), Carrot, Beetroot, Lime, Tamarind, Tomato
Any Other Fruit or Vegetable Powder
Application: All these Powders are used in Fruit Salads / Ice Creams / Beverages / Natural colours / culinary applications.