OSMOTIC DEHYDRATED FRUITS
Fruits in general contain more than 75% water and get spoiled very quickly, if not stored properly. Even proper storage fails to preserve the fruits for a longer period unless they are dehydrated. The Osmotic Dehydration is a unique technique developed along with Indian Institute of Horticultural Research (IIHR, Bangalore) which not only enables the storage of fruits for a longer period, but also preserves Flavour, nutritional characteristics and prevents microbial spoilage.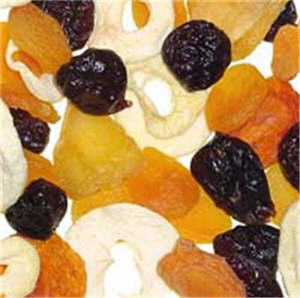 Osmotic Dehydration can remove 30-50% of the water from fresh ripened fruits and final drying of the fruit pieces to around 10-12% moisture takes place in Vacuum Drying. The final product is much superior in Appearance, Taste, Flavour and Colour compared to conventional drying of fruits. The Osmotic dehydrated Fruit bar is a Healthy Ready to Eat Snack for all, Specially School going children, Elderly and Armed Forces at remote areas and Project sites.
The Following Fruits are Osmotically Dehydrated at Cifal Herbal Private Ltd ( formerly Southern Citrus Private Ltd ):
MANGO, PINEAPPLE, AMLA, PAPAYA, JACKFRUIT, SAPOTA (CHIKU)
DEHYDRATED VEGETABLES AND FRUITS
The Following Vegetables can be dehydrated (Vacuum Drying or Tunnel Steam heated Drying) to required sizes/ shapes/ Powder or Bits.
Beetroot, Cabbage, Carrot, Coriander,Banana, Papaya, Raw Mango, Tomato, and Any Other Vegetable or Fruit