Dehydrated Limes ( DHL) are produced from selected yellow Limes with out any external blemishes. The fruits are specially treated and dipped in hot water to remove the oils, which cause bitterness . Then the fruits are carefully loaded on to SS trays which are stacked in trolleys and pushed into a Tunnel Dryer . The fruits are subjected to carefully controlled hot steam blast which is in continuous circulation. The total operations are conducted in total hygiene and packed into poly bags and sealed.

Purpose: In hot countries like gulf where fresh Lime fruits are not available, these DHLs are excellent thirst quenchers. The fruit is crushed in hand and dipped into about 200 ml. warm / cold water ( as per individuals preference) and after 15 min. a nice Lime flavored beverage is ready for sipping. Depending on the concentration, more water can be continuously added to same glass of fruit and sip the drink as and when thirsty.

Packing : Generally, the DHL s are packed in 15 kg. Polythene lined poly bags and the life of the product is 2 years.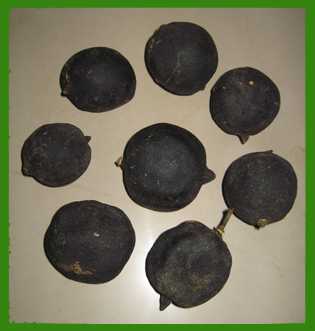 SPECIFICATIONS
There are no intl. standards as such. But, based on the gulf demand, the specs are as follows: Dia. Of the fruit - min. 30 mm. Moisture content - Less than 10 % Colour - Black ( preferred in Saudi Arabia) Brown ( Other gulf countries) " Flavor - When fruit is broken it gives characteristic Lime flavor " and when dipped in water no bitterness in juice ".
DEHYDRATED LIMES
Color
: Thick Black / Brown.
Moisture
: 6 % max.
E. coli & Salmonella.
: Absent .
Size:
Grade A
: > 33 mm dia.
Grade B
: < 33 mm dia.
PACKING : 15 kgs bag / carton.
For Product Query Kindly, Email to: sagar@cifalherbal.com

Form Object